Perma-Soil H.B.M
the original soil stabiliser
Perma-Soil The Original Soil Stabiliser. Transform Spoil into usable backfill. The Ultimate in on-site recycling. Overhead poles, burst repairs, water meters and more.
Perma-Soil HBM provides the perfect solution to re-cycle trench arisings - Hydraulically Bound Materials (HBM) & Structural Material for Re-instatement (SMR).
Perma-Soil is ideal for a range of applications from installing fence and gate posts to installing overhead poles and water meters by turning spoil into useable backfill within minutes.
Perma-Soil
is quick and easy to use as no special tools or complicated techniques are required, and it is extremely cost effective.
Perma-Soil is available in a range of weights
from handy 12.5kg bags to large one tonne sacks,
to find out more give us a call now on 01792 895906
A9 Approved!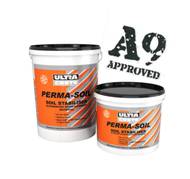 Approved under Apendix 9 of the SROH, New Roads and Streetworks Act 1991 as an Alternative Reinstatement Material.
A soil stabiliser that turns excavated spoil into usable backfill within minutes. It is ideal for use with small utility excavations, and when backfilling poles, water meters and tobies etc. Perma-Soil significantly reduces the need to haul away spoil or transport backfill to the jobsite.
A9 Approved
Quick and easy to use in-situ
Remains permeable to water
Can be re-excavated
Increases load bearing capability of excavated spoil
Meets requirements set out in the Utility WRAP Agreement
Meets SMF and SMR requirements of Appendix 9